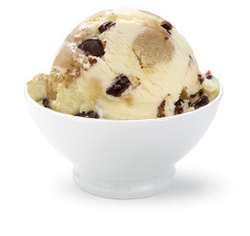 Cookie Dough Ice Cream also known as chocolate chip cookie dough ice cream is a flavour of ice cream first originating in 1984. Though simply being called "cookie dough", it has chocolate chips embedded in it as well.
The main ingredient that gets it the name is Cookie Dough. Cookie dough refers to a blend of cookie ingredients which has been mixed into a malleable form which has not yet been hardened by heat. The dough
 is often then separated and the portions baked to individual cookies, or eaten as is. Eating raw cookie dough can be harmful due to the use of eggs and can cause Salmonella.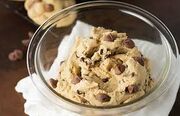 History
Cookie dough ice cream originated at Fabulous Phil's Gourmet Ice Cream (Massachusetts) in 1984 as well at the Ben and Jerry's Burlington Scoop Shop from an anonymous suggestion on their flavour suggestion board. Because this outlet made most of its own flavours, the combination was only available there for several years. However, later on, Ben and Jerry's "primal ice cream therapist" Peter Lind collaborated with Rhino Foods' employee Ted Castle to produce a variety of cookie dough that retained dough-like consistency at ice cream temperatures. With the Rhino Foods' help, both of them were able to produce more of the flavour in 1990, and in 1991, Ben and Jerry's introduced it to the wider public in pint-sized containers.
Ever since then, it has been impersonated widely by ice cream brands such as Häagen-Dazs, Breyers, Dreyer's, and Turkey Hill.
Ingredients that you need.
2 ounces of unsweetened chocolate
1 3/4 cups of chocolate chips
1/2 cup butter
1 cup sugar
2 teaspoons vanilla extract
2tablespoons water
1 cup flour
1/2 cup white chocolate chips
1/4 cup milk chocolate chips
2 quarts chocolate ice cream or vanilla ice cream
Instructions
Melt unsweetened chocolate and half of the chocolate chips.
In a bowl, cream butter and sugar.
Add vanilla and water and beat until smooth.
Beat in melted chocolate.
Add flour, and all the remaining chocolate chips. Mix.
Drop dough into softened ice cream and partially blend to combine.
Leave the freezer for 2 hours before serving.