Four Boys Ice Cream is an American ice cream store. The store also sells other sweet treats such as cake, italian ice,
and slushies. The company originated from New Jersey and many other chains have opened in the state.
History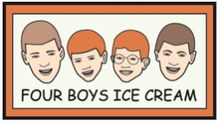 The first mention of Four Boys Ice Cream was in 1999. This was when the company was just an ice
cream truck. The name of the company originates from the names of four boys, Dan, David, Luke, and Jake JoAnn. Throughout the next several years more trucks were added, and the ice cream truck business flourished. In addition to selling ice cream on local streets and at various parks and recreation centers, Four Boys began participating in local events. Street Fairs, carnivals, and fairs were added to the Four boys repertoire. In the Spring of 2004 Four Boys was chosen to be a vendor at the Monmouth County Fair, selling ice cream. Dan, always passionate about the business, researched the feasibility of becoming a soft- serve ice cream vendor. Subsequently the business purchased its first soft – serve ice cream machine, and continued participating in events with this new machine. After realizing success as a mobile vendor, the family decided the next step would be to open an ice cream shop.
In the Fall of 2004 Jack Frost Ice Cream and Luncheonette, Tennent Ave, Englishtown decided to sell their business –and Four Boys Ice Cream and Luncheonette was born. We opened in March 2005, and it was truly a family affair. Everyone pitched in and helped grow the business. As in any business, it takes time, effort, passion and a lot of hard work to be successful.
In the Fall of 2010 the family decided to focus on the ice cream portion of the business and sold the luncheonette. At this time the event business took off, and Four Boys became a fixture not only at local fairs and events, but throughout the tri-state area as well. Nationally renowned concerts such as Governor's Ball, Bamboozle and Rock the Bells were some of the first concerts to showcase Four Boys Ice Cream. Four Boys Concessions, a division of Four Boys Ice Cream, continues to add events every year to its rapidly expanding calendar, serving not only ice cream and snack items but delicious food as well.
The ice cream shop continued to flourish during this period, and in the spring of 2013 Four Boys opened a second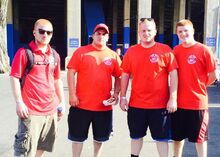 location in Jamesburg. In 2014 Four Boys expanded to the Jersey Shore, running a food trailer on the boardwalk in Belmar for the summer of 2014. Our Jersey Shore location is now at 3 rd and Ocean in Bradley Beach.
In the Fall of 2016, the fourth and latest location was opened in Jackson, New Jersey.
Community content is available under
CC-BY-SA
unless otherwise noted.