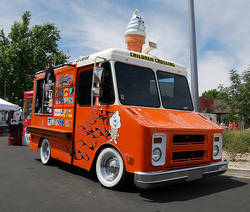 Ice Cream Trucks are trucks that typically go around areas selling ice cream. It could be either in a rural area or even on occasion, a city. Ice cream trucks are a way to buy ice cream without having to go to your local ice cream store, if any, making it a useful portable ice cream shop.
Companies
There are various larger ice cream truck companies, of which they are listed here.
Big Gay Ice Cream Truck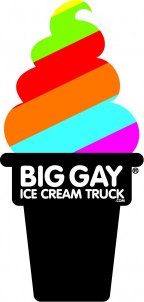 The Big Gay Ice Cream Truck, or BGICT, is an ice cream truck that serves soft serve ice cream cones, cups, and novelties with a menu of unique and unusual flavors and toppings. Its co-founders are Doug Quint and Bryan Petroff.
History
Doug Quint was a free-lance classical bassoonist looking for a secondary occupation in the summer off-season. A flutist friend had been operating an ice cream truck of her own and suggested doing the same to Quint, who took her up on the suggestion. In June 2009, Quint and his partner, Bryan Petroff, founded and began operating the Big Gay Ice Cream Truck at Brooklyn Pride in Prospect Park. Their business is only open during summers.
Name
The name "Big Gay Ice Cream Truck" refers to the two workers' sexual orientation, as they are partners, as well as their mood, Quint stating that: "if I weren't gay, I wouldn't call it the Big Gay Ice Cream Truck. And if I weren't happy, I wouldn't have the Big Gay Ice Cream Truck. It would just be the big crabby ice cream truck."
Community content is available under
CC-BY-SA
unless otherwise noted.