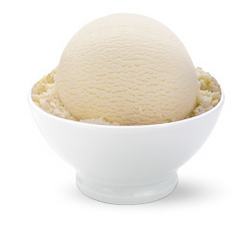 Vanilla Ice Cream is renowned as the most popular flavour of ice cream. The vanilla flavouring used in the ice cream varies depending on the location. Vanilla Ice Cream can be traced back all the way to the 14th century. This ice cream is also one of the 3 basic ice cream flavours in neapolitan ice cream. Follow these instructions to learn how to make your own homemade ice cream for summer days:
Ingredients
1 gallon ziploc bag
1 pint ziploc bag
1/4 of a teaspoon of vanilla extract
1/2 of a cup of milk
Ice
2 teaspoons of sugar
4 tablespoons of salt
Instructions
Fill the gallon bag half way with ice and pour the salt in.
Set aside. Pour sugar in pint bag. Then, add vanilla extract. After that, pour in milk.
Put pint bag into gallon bag. Then SHAKE for 5 minutes. It would help to try and the pint bag in the middle of the ice and shake so it wont melt fast.
ENJOY!!!
A recipe on Recipes Wiki is at [1].
Community content is available under
CC-BY-SA
unless otherwise noted.